Celebrating Over 44 Years of Serving Those Who Serve
Open 24/7… the Armed Forces Service Center (AFSC) is an "all free" stop located at the Minneapolis/St. Paul International Airport, for traveling military to include Active Duty, Reserve and National Guard personnel and their dependents, as well as Department of Defense and PHS employees (on orders) and other members of the uniformed services on active duty. In appreciation for all those who have served, military retirees and veterans are welcome to a cup of coffee, pastry and seating provided outside the AFSC. The center is located in Terminal 1- Lindbergh, on the mezzanine level above the main ticket area by check point 1.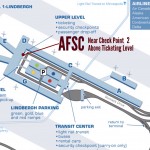 Click here for maps.
The Armed Forces Service Center is a one-of-a-kind facility unique to Minnesota (CFC code 45253). It is not affiliated with the USO or with the Metropolitan Airports Commission, which owns and operates Minneapolis-St. Paul International Airport.
The Armed Forces Service Center was founded by Maggie Purdum on November 22,1970, after her son died in Vietnam. As a non-profit 501(c)(3) organization, the center relies on funding from various veterans' organizations and their auxiliaries as well as private businesses and individuals.
The Center offers numerous amenities:
A nice lounge area with comfortable furniture, a dining table and buffet.
A large kitchen with two microwaves, and a commercial coffee machine. Ask an AFSC volunteer for what you need from the kitchen.
A 50″ flat panel television with over 200 satellite channels.
DSN line, calling cards and cell phone.
Free Wi-Fi, courtesy of Advanced Wireless Group, with 45 minutes of complimentary wireless access after you've either watched a commercial or filled out an online survey.
Three iPads and a laptop, with CAC reader, connected to a printer.
The printer is also a fax, copier, and scanner.
Complementary sandwiches, pastries, chips, cereals, soups, hot and cold beverages.
Men's bunk room with 20 sleeping bunks.
Women's bunk room with 6 sleeping bunks, a baby crib and nursing chair.
A bathroom with a changing table and various complementary toiletries.
An assortment of children's toys, games, playing cards.
Complementary paperback books, stationery, stamps, sewing kits.
Iron and ironing board.
Supervised storage of luggage, and bunk wake-up service.
---
The Armed Forces Service Center can be found on these social networks!
Click on the logos below.
Face Book – The AFSC is listed as Armed-Forces-Service-Center
Twitter – The AFSC is listed as ArmedForcCtrMSP
---