Dear Prospective Volunteer,
Thank you for your interest in volunteering at the Armed Forces Service Center (AFSC). Please take a moment to review the important information below.
Application – There are two ways to apply – use the online form or you may download the PDF (convert to word or print, complete form in ink, then scan) form and send completed Application to VolunteerAFSC@gmail.com.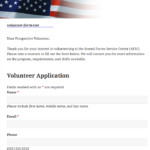 Background Checks – In accordance with security controls at MSP airport, the AFSC also requires background checks. Effective 2011,Our policy requires that volunteers undergo a background check, before they are scheduled for a training shift. The search consists of the US Criminal National Database — which includes the Sex Offender Registry and Terrorist Watch list.
Directions – A letter is sent to all applicants with information needed for the initial orientation at the airport.
Orientation – These classes are held every month instead of the quarterly system used by some organizations. During your orientation class, you will be given an in-depth tour of MSP Airport for areas of interest to our guests. Given our space limitations, classes are limited to 8 prospective volunteers per meeting.
Shifts – At the AFSC, we are always looking for volunteers (over age 21) that are able to commit to 'serving those who serve' for at least two — 4-hour shifts a month. Our greatest need for volunteers is on the shifts from 8:00 PM to 8:00 AM.
Duties – At the AFSC, we provide a wide range of services for traveling current members of the U.S. Armed Forces, their dependents, DOD/PHS personnel and armed forces of allied nation. We also welcome Military Retirees and their Dependents in a travel status, if space is available. As a 24 hour airport facility, we rely on our volunteers to demonstrate a kind, caring and helpful manner in helping us maintain our top rated military center and by performing various light house keeping duties such as making coffee, stocking the beverage cooler and sanitizing kitchen areas and cleaning bunks and table tops with approved sanitizer. In addition, volunteers share duties in the kitchen preparing food for guests and provide guests instructions on passenger security procedures and available resources in the airport.
Training – Background Check paperwork is completed during Orientation and Upon receipt of the required background check, you will be scheduled for three training shifts.
Parking – Complimentary parking is available to AFSC volunteers during shift periods.
If you are looking to complete a short-term community service court requirement — the AFSC is not set-up to accommodate this type of obligation, based on our training process.
Thank you for your support of the AFSC. We greatly appreciate it.
Yours in service, Debra Cain
Executive Director, Armed Forces Service Center